Home | What's New | Contact Us | How to Order | PRICE LIST | Sitemap | Publications | FAQ | LINKS

SynLube™ Lube−4−Life®
1970 FIAT-Abarth 695 SS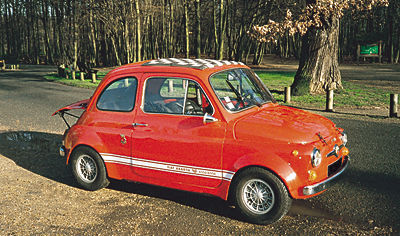 Synner since: January 26, 1970 @ 600 odo kilometers
---
Two-cylinder air-cooled engine based on the famous FIAT 500 (cinquecento) rebored to 695 ccm by Abarth uses Carburetor by Weber (double 40 DCOE). Car was equipped with rare magnesium Campagnolo-Abarth 10" wheels.
This car was entered in numerous competitions in Italy, Yugoslavia, Germany, Poland and Czechoslovakia from 1970 to 1972 and has 13 wins to its credit. It was sold in 1977 to a car collector in France, he raced it again "as is" in 1992 and won two races.
---
Following Products were installed:
SynLube™ "Original Syn!" Motor Oil SAE 5W-50

used in the 695 cc engine

SynLube™ SAE 70W-90 Gear Oil

used in the 5 Speed Transmission

SynLube™ Grease
---
Vehicle Data
Engine
Transmission

5 speed fully synchronized close ratio
---
Made in USA SynLube™ Lube−4−Life® products are 100% Synthetic non-petroleum colloidal lubricants.
Yet another High-Performance racing vehicle proves that Permanent non-petroleum SynLube™ Lube−4−Life® Functional Fluids are a viable alternative to conventional petroleum based fluids, which must be periodically and frequently changed to maintain vehicle in a good operating condition.
---
Home | Motor Oil | ATF | Gear Oil | PSF | Grease | Coolant | Oil Filters | Magnets | Brake Fluid | Gauges | Tools | Specials | Sale Items
Send E-mail to synlube@synlube.com with questions or comments about this web site.
Copyright © 1996-2013 SynLube Incorporated
Last modified: 2013-04-05
Lube−4−Life® is a Registered Trademark of SynLube Incorporated








This web page was successfully Validated as: "HTML 5 with CSS 3" and tested in all above browsers