1998 Chrysler Sebring LSI


16,739 Miles in 534 Days WITHOUT OIL CHANGES !!!
SynLube™ Lube−4−Life® System makes it possible.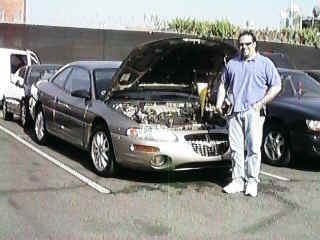 Ex-owner: John Carroll during ATF installation, Los Angeles, California USA
Synner from 6/5/2001 @ 51,271 miles to 11/21/2002

Following SynLube™ Lube−4−Life® products were used:
Motor Oil SAE 5W-50

used in the 2.5 Liter V-6 Mitsubishi built engine

MicroGlass™ Motor Oil Filter (Fwm)
TriMag™ Motor Oil Filter Magnet (1 unit)
Automatic Transmission Fluid (ATF)
Cool-4-Life™ Antifreeze-Coolant
MAINTENANCE
NONE
Additional Information
Owner comment after SynLube™ ATF installation:
"The strange noise in the Automatic Transmission which was present since new, and I thought to be "normal" is now gone.
Shifting now feels much better and is silent"
Car Sold @ 68,010 miles on 11/21/2002
---