Home | What's New | Contact Us | How to Order | PRICE LIST | Sitemap | Publications | FAQ | LINKS

SynLube™ Lube−4−Life®
1953 Citroën 15 Six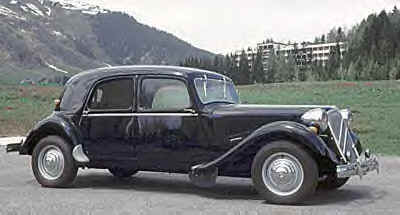 Synner since: January 26, 1953 @ 600 odo kilometers
---
First vehicle experimentally equipped with Syn!
This car (N° de série :717735) was the first ever vehicle to be experimentally equipped with early versions of SynLube™ known as the "Syn!" was still operational in 2009 !
The car which has 2.8 Liter in-line six-cylinder engine was used to test different laboratory produced samples of the early SynLube formulations from 1953 to 1966.
It was sold to a business man in Vienna, Austria in fall of 1969, he then sold the car to a Swiss Car Collector in 1972.
The car had its last "oil analysis" in December 1999, before a long distance drive to Paris, France for a car collector's meet and auction. The SynLube™ that was last changed in 1992 still was in a good condition at that time!
This car was acquired by new owner in 2009 who just keeps the vehicle in storage and is not driving it at this time.
However he reportedly starts the car every three months just to make sure it is in running condition.
---
Home | Motor Oil | ATF | Gear Oil | PSF | Grease | Coolant | Oil Filters | Magnets | Brake Fluid | Gauges | Tools | Specials | Sale Items
Send E-mail to synlube@synlube.com with questions or comments about this web site.
Copyright © 1996-2013 SynLube Incorporated
Last modified: 2013-04-07
Lube−4−Life® is a Registered Trademark of SynLube Incorporated








This web page was successfully Validated as: "HTML 5 with CSS 3" and tested in all above browsers