Home | What's New | Contact Us | How to Order | PRICE LIST | Sitemap | Publications | FAQ | LINKS

SynLube™ Lube−4−Life®
1972 CITROËN SM - SynLube Test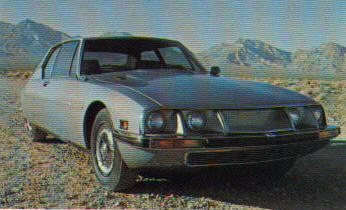 Second SynLube "long-term" test
---
At one time CITROËN (French Automaker) had serious intentions to use SynLube™ products as standard equipment on its export models to USA, since it would reduce or eliminate majority of maintenance tasks.
This 1972 CITROËN SM with MASERATI V-6 engine was one of few cars shipped to the USA that were equipped with SynLube™ fluids from the factory.
Unfortunately the idea of NO Oil Changes proved to be too radical in 1972 and most uninformed mechanics have drained the "BLACK" SynLube™ Motor Oil because it appeared to be "dirty".
In 1974, CITROËN withdrew from North America, due to low sales volume and lack of experienced mechanics to maintain the rather complex vehicles with complicated hydraulic system, which operated the vehicle's self-leveling suspension and anti-lock brakes as well as variable assist power steering.
Also the vehicle's top speed of 165 MPH was considered too dangerous for "unskilled" American drivers and a legal liability during the "55 MPH National Speed Limit" then enforced.
The car shown above was driven for over 500,000 km (310,000 miles).
The Motor Oil was changed every 50,000 miles.
The Transmission Oil was changed @ 100,000 and 210,000 miles.
The Hydraulic Fluid was changed @ 50,000; 185,000; and 300,000 miles.
Vehicle was sold in 1986 @ 310,950 miles to a vehicle collector in Oregon, USA
The car did not suffer any lubricant related problems during it's service life.
---
Home | Motor Oil | ATF | Gear Oil | PSF | Grease | Coolant | Oil Filters | Magnets | Brake Fluid | Gauges | Tools | Specials | Sale Items
Send E-mail to synlube@synlube.com with questions or comments about this web site.
Copyright © 1996-2013 SynLube Incorporated
Last modified: 2013-04-08
Lube−4−Life® is a Registered Trademark of SynLube Incorporated








This web page was successfully Validated as: "HTML 5 with CSS 3" and tested in all above browsers