SynLube™ Lube‑4‑Life®
2009 CHEVROLET Colorado 2.9L
WITH ONE OIL CHANGE !!!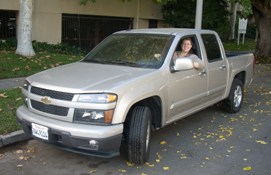 owned by: Kim Irvine, Tustin, California - USA
Synner since: October 1, 2009 @ 1,777 miles
Following Products are used:
SynLube™ Lube‑4‑Life® Motor Oil SAE 5W-50

used in the I-4 2.9L engine

SynLube™ MicroGlass™ Motor Oil Filter (GSnl)
UNIMAG™ UM16 Motor Oil Filter Magnet (1 unit)
SynLube™ Lube‑4‑Life® PSF
SynLube™ Lube‑4‑Life® ATF-5

used in Automatic Transmission
Made in USA SynLube™ Lube‑4‑Life® products are 100% Synthetic non-petroleum colloidal lubricants.
Yet another vehicle proves that Permanent non-petroleum SynLube™ Lube‑4‑Life® Functional Fluids are a viable alternative to conventional petroleum based fluids, which must be periodically and frequently changed to maintain any vehicle in a good operating condition.
Update: 65,380 odo miles on November 12, 2017
Maintenance
Motor Oil Filter changed on 5/8/2011 @ 18,590 odo miles
Motor Oil Filter changed on 6/2/2013 @ 31,124 odo miles
Motor Oil Filter changed on 5/11/2015 @ 46,183 odo miles
Motor Oil Filter changed on 8/21/2016 @ 55,950 odo miles
Motor Oil Filter and Motor Oil changed on 11/12/2017 @ 65,380 odo miles
Motor Oil Consumption
One Liter of ADD OIL per 14,803 miles
---
You can contact the owner by e-mail: Kimcat@att.net
---