Home | What's New | Contact Us | How to Order | PRICE LIST | Sitemap | Publications | FAQ | LINKS

SynLube™ Lube−4−Life®
Mobil 1 SPECIAL
Old Production Mobil 1 Motor Oil - Limited to Stock on Hand !
Because we have been exclusively in synthetic oil business for many years, transportation companies, oil distributors and even oil producers offer to us sometimes major brand synthetic products that were stocked somewhere for many years and generally "forgotten".
Products that we currently have in stock:

---
Mobil 1 - SAE 5W-30 Motor Oil
This is the famous "Second Generation" Synthetic Motor Oil for Heavy Duty Diesel Engine and for Gasoline Engine use made in 1981.
This lot has been well stored since about 1982, cans have no corrosion on them, no leaks !
This batch really demonstrates how "good" was the packaging for this product, in our estimate it is good for at least another 100 years or more !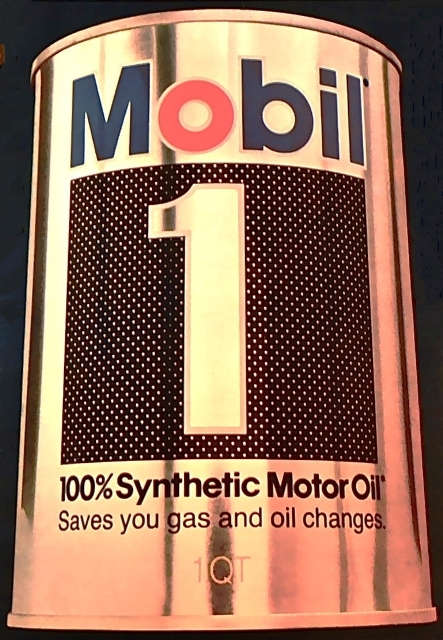 Can content is labeled as "1 QT"
(Chrome can)
API SEVICE: CF, CC
Allows 25,000 miles between oil changes, or one year, whichever comes first.
Minimum Order: One Can
---
To our best knowledge this the ALST known lot of pre−1982 production of the "Second Generation" Mobil 1 Motor Oil
- could be "worth" lot for reverse engineering !!!
MAKE OFFER
---
If you are interested in the above products send us e−mail stating quantity wanted and to confirm current availability & make offer on how much you want to pay.
Send mail to sales@synlube.com
---
Shipping costs extra (about 2 lbs. per bottle or can) shipped from Las Vegas, Nevada ZIP 89109.
For shipping costs check FedEx HOME or GROUND rates FedEx
---
NOTE:
All products listed on this page are Liquidation Items, sold as is, all shipping and packaging costs are extra.
ALL SALES ARE FINAL, NO RETURNS.
Home | Motor Oil | ATF | Gear Oil | PSF | Grease | Coolant | Oil Filters | Magnets | Brake Fluid | Gauges | Tools | Specials | Sale Items
Mobil 1 is a Registered Trademark of ExxonMobil