Home | What's New | Contact Us | How to Order | PRICE LIST | Sitemap | Publications | FAQ | LINKS

SynLube™ Lube−4−Life®
Mobil AV1 SPECIAL
Old Production Mobil AV1 Aviation Motor Oil - Last known never opened bottle in existence !
Because we have been exclusively in synthetic oil business for many years, transportation companies, oil distributors and even oil producers offer to us sometimes major brand synthetic products that were stocked somewhere for many years and generally "forgotten".
Products that we currently have in stock:

MOBIL 1 - AV 1 Synthetic Aviation Engine Motor Oil SAE 20W-50
One US Quart plastic bottle + shipping costs (2 lbs. per bottle).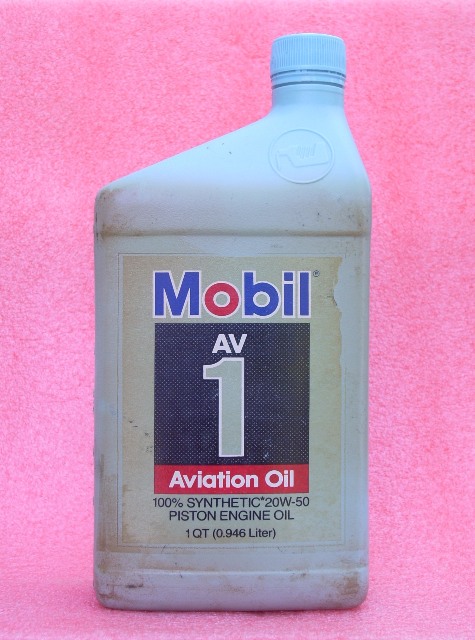 One US Quart bottle
(Sky-blue plastic bottle - above)
SAE 20W-50
Minimum Order: One bottle
---
To our best knowledge this may be the ONLY known bottle of MOBIL AV1 Aviation Motor Oil in existence - Original Sealed Cap - NEVER OPENED - could be "worth" lot for reverse engineering !!!
MAKE OFFER
Update:
On July 20, 2013 we have received e-mail form a person claiming to have 5 bottles of AV1, however no production codes were provided for verification.
---
If you are interested in the above products send us e-mail to confirm current availability & make offer on how much you want to pay for this extremely rare item.
Send mail to sales@synlube.com
---
Shipping costs extra (about 2 lbs. per bottle or can) shipped from Las Vegas, Nevada ZIP 89109.
For shipping costs check FedEx HOME or GROUND rates FedEx
---
NOTE:
All products listed on this page are Liquidation Items, sold as is, all shipping and packaging costs are extra.
ALL SALES ARE FINAL, NO RETURNS.
Home | Motor Oil | ATF | Gear Oil | PSF | Grease | Coolant | Oil Filters | Magnets | Brake Fluid | Gauges | Tools | Specials | Sale Items
Mobil 1 is a Registered Trademark of ExxonMobil
Send mail to synlube@synlube.com with questions or comments about this web site.
Copyright © 1996-2013 SynLube Incorporated
Last modified: 2013-07-24







This web page was successfully Validated as: "HTML 5 with CSS level 3" and tested in all above browsers