RTV Silicone Instant Gasket - Black
---

Black RTV Silicone Instant Gasket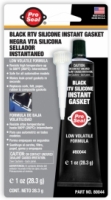 Specially formulated for high temperature applications.
Withstands temperatures from -75°F (-60°C) up to 400°F (204°C) continuous and up to 500°F (260°C) intermittent.
Safe for all car models. Will not foul computer sensors.
Resists high pressures up to 5,000 PSI.
Dries flexible. Resists shrinking and cracking.
May also be used as a gasket dressing.
Resists common Automotive Fluids and Chemicals:
Motor Oil
Gear Oil
Transmission Fluids
Grease
CAUTION:
Not recommended for constant immersion in Gasoline !
Item #
Brand
Item Description
Color
Price
80044

Pro Seal

RTV Silicone Instant Gasket

Black

$

2.00
Availability:
In stock! Available for immediate delivery - Order now!
---


Pro Seal Logo
is Registered Trademark of
PACER Technology
Send mail to synlube@aol.com with questions or comments about this web site.
Copyright © 1996-2014 SynLube Incorporated
Web Master: MIROX Corporation
Last Updated:







This web page was successfully Validated as: "HTML 5 with CSS 3" and tested in all above browsers