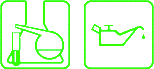 SynLube™ Lube−4−Life®


Computerized Data Base Maintenance Monitoring is a FREE service offered to all our customers.
It is required if your Vehicle is to be covered under our Limited Lubrication Warranty.
Key Benefits
Maintenance of your Vehicle's service records on our computer system.
FREE notifications of recommended or required servicing.
Custom tailoring of PMS based on your vehicle's actual use.
Capabilities
Determination of a need for Analysis

Based on your vehicle's use data, determination is made if Fluid Analysis is needed or would be helpful

Determination of a need for Fluid Addition or Change

Based on your vehicle's use data, determination is made if Fluid Level should be checked, Fluid Added or Changed

Determination of a need for Filter Check or Replacement

Based on your vehicle's use data, determination is made if Fluid Filter should be checked or replaced