Home | What's New | Contact Us | How to Order | PRICE LIST | Sitemap | Publications | FAQ | LINKS

SynLube™ Lube−4−Life®
1937 Aero 30
WITHOUT OIL CHANGE !!!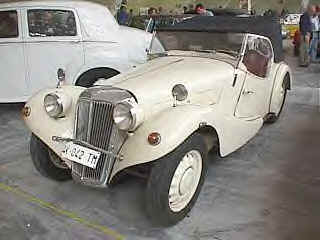 Synner since: February 19, 1999
SynLube™ Products used in this vehicle:
Gear Oil SAE 70W-90 (MT)

used in the 3 speed Transmission

Gear Oil SAE 70W-90 (RE)

used in the Rear Differential
Update: 23,188 odo kilometers on July 22, 2013
This unique sports car which has been made in Czechoslovakia in 1937, has been fully restored in 1999 by Italian firm ZARATTINI at cost of 35,000,000 Lire.
All Aeros were fitted with 2-stroke engines, the 30 with a 2-cylinder 998 cc unit, which is lubricated by mixing oil with fuel.
SynLube™ Lube-4-Life® Products have been used in the gear box and differential.
Current vehicle owner lives in Viena, Austria.
---
Home | Motor Oil | ATF | Gear Oil | PSF | Grease | Coolant | Oil Filters | Magnets | Brake Fluid | Gauges | Tools | Specials | Sale Items
Send E-mail to synlube@synlube.com with questions or comments about this web site.
Copyright © 1996-2013 SynLube Incorporated
Last modified: 2013-07-28
Lube−4−Life® is a Registered Trademark of SynLube Incorporated







This web page was successfully Validated as: "HTML 5 with CSS level 3" and tested in all above browsers