SynLube™ Lube−4−Life®
1996 BUGATTI EB 110 GT
WITHOUT OIL CHANGE !!!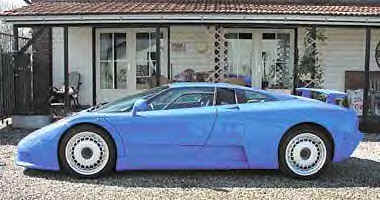 Owner lives in Monaco, Europe
Synner since: May 9, 1996
SynLube™ Products used in this vehicle:
Motor Oil SAE 5W-50

is used in the V-12 3.5L engine

Gear Oil SAE 70W-90 (MT)

used in the 6 speed Transmission

Gear Oil SAE 70W-90 (RE)

used in the Front and Rear Differentials
Maintenance
Following SynLube™ Products were installed at 18,000 odo kilometers in June 2001:
Power Steering Fluid (PSF)
Cool-4-Life™ Coolant/Antifreeze
Stop-4-Life™ DOT 5.1 Long Life Synthetic Brake Fluid
Update: 68,481 odo kilometers on July 28, 2014
This blue Bugatti was sold new in 1995. It is a one owner car, it still smells new inside.
It was equipped with SynLube™ Lube-4-Life® Motor Oil and Gear Oil in 1996 @ 1,000 Km.
One would think, that in a vehicle that boasts 540 Hp @ 8,000, one would not expect much difference after changing Motor Oil, but the owner comments: "Now I experience exhilarating accelerations and V-12 engine is so smooth at idle, if it did not have a tach, I would not know it was running.
The gear oil is simply amazing, it is perfect for 4-wheel-drive efficiency".
Owner offered this car at auction in May of 2001, but did not receive adequate offer, so decided to "keep it forever", at which time installed additional SynLube™ Lube-4-Life® products.
---