1974 BERTONE Lamborghini Bravo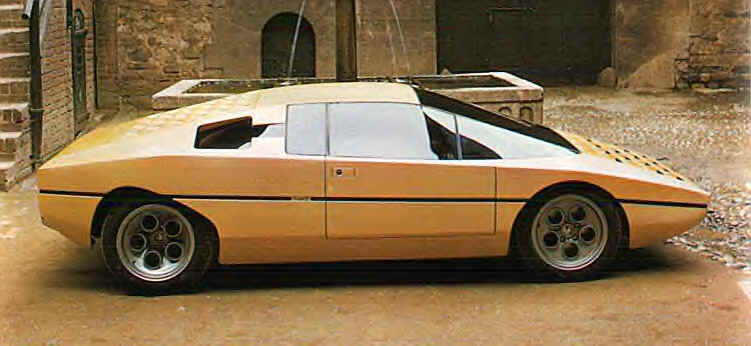 1974 BERTONE Lamborghini Bravo
---
Lamborghini Bravo - Bertone design you can't buy, Why?
Because only two have been made in 1974.
The Gold (Chassis #46.01) car which is fully functional has been test driven for over 270,000 km (168,000 miles).

Chassis #46.01
The Lamborghini Bravo was not just a concept car designed by Marcello Gandini at Bertone for Lamborghini, but also a fully functional pre-production prototype.
It was presented for the first time at the 1974 Turin Motor Show, the Lamborghini Bravo was intended to be a two-seater V8 engined companion to the Urraco 2+2.
It featured a 3-liter transverse mid-mounted 90° V-8 DOHC engine that produced 300 bhp and was mated to a five-speed gearbox.
Despite all the plans for the Bravo, the car never made it into production, in large part because of the Lamborghini's financial problems at that time.
The Green car (Chassis #46.02) was crash tested in 1976.

Chassis #46.02 shown prior "Crash Test"

Chassis #46.01 shown prior retirement from "Durability Test"
This particular vehicle was acquired by BERTONE after it was retired from "durability testing" and was part of the BERTONE Museum Collection until 2011.
In December 1987 at the insistence of Miro Kefurt of M.I.K Automotive, Inc. of North Hollywood, California USA, who at that time was the Number One dealer for BERTONE in USA, the BRAVO almost saw a production as a companion version to the BERTONE X1/9, utilizing the same powertrain, but with mechanical supercharger.

Chassis #46.01 shown with 1987 X1/9s at BERTONE Design Studio after "measurement session"
However, shortly after the start of "Project 1", FIAT announced that the power unit (engine and transmission combination) that was used in the US version of BERTONE X1/9 will be discontinued in 1988.

Chassis #46.01 prior "refreshment",
last day at the Bertone Museum
The car was sold during auction in May 2011 which was part of Bertone Museum asset liquidation ordered by Italian Bankruptcy court.
Prior being offered at the auction the Bravo was the only car from the Bertone Museum that was "refreshed".

Chassis #46.01 after "refreshment" as presented at the auction
The refreshment consisted of new upholstery of the Alcantara® interior, and new paint of White pearl color with several coats of clear.
The original Stewart-Warner Gauges were also replaced with new units.
This Lamborghini Bravo was estimated to have an auction price value of around US$213,000 to US$312,000 by RM Auctions.

How much did it sell for?
€588,000 (US$825,400)
---
Following Products were installed in 1974:
SynLube™ "Original Syn!" Motor Oil SAE 5W-50

used in the 3 L V-8 engine

SynLube™ SAE 70W-90 Gear Oil

used in the 5 Speed Transaxle

SynLube™ Grease
---
Vehicle Data
ENGINE
Type
90° Aluminum L240 V8
Transverse, Mid-Mounted
DOHC per bank
Valves
2 per cylinder
Bore/Stroke
86mm x 64.5mm
Capacity
2,996cc
Carburation
4 Twin-throat Webers
40 DCNF
Max power
300bhp @ 7,800rpm
Torque
237 ft/lbs @ 4,000rpm
Compression
10:1
TRANSMISSION
Gearbox
5-speed + reverse
All-Synchromesh
Axle Ratio
14/35
Clutch
Single dry plate
hydraulically assisted
STRUCTURE
Chassis
Integral chassis/body
Body
Steel
Builder
Bertone
Suspension
Independent, coil springs and
telescopic shock absorbers
Brakes
Girling ventilated discs

Wheels
Campagnolo cast magnesium
Front: 15" x 8"
Rear: 15" x 11"
Front Tires
195/50 VR 15 Michelin
Rear Tires
275/40 VR 15 Michelin
MEASUREMENTS
| | | |
| --- | --- | --- |
| Overall Length | 3775 mm | 147.2 in |
| Overall Width | 1900 mm | 74.1 in |
| Overall Height | 1050 mm | 41.0 in |
| Wheelbase | 2275 mm | 88.7 in |
| Front Track | 1488 mm | 58.0 in |
| Rear Track | 1555 mm | 60.6 in |
| Weight | 1085 kg | 2390 lbs |
| Fuel Tank | 80 Liters | 21 US Gal. |
PERFORMANCE
| | |
| --- | --- |
| Top speed | 275 km/h (170 mph) |
| Acceleration | 0-60 mph in 7.3 sec |
---
Made in USA SynLube™ Lube−4−Life® products are 100% Synthetic non-petroleum colloidal lubricants.
Yet another Prototype vehicle proves that Permanent non-petroleum SynLube™ Lube−4−Life® Functional Fluids are a viable alternative to conventional petroleum based fluids, which must be periodically and frequently changed to maintain vehicle in a good operating condition.
---