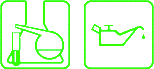 SynLube™ Lube‑4‑Life® 1−800−SYN−LUBE
1971 LAMBORGHINI Espada II


Over 131,500 miles in 30 Years WITH ONLY ONE OIL CHANGE !!!
SynLube™ Lube‑4‑Life® System makes it possible.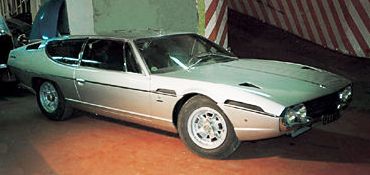 Ex-Owner: Vasek Havel, Sun Valley, California USA

Synner since 1981 @ 500 miles (new engine)*

Comment
Car was purchased non-running in 1979 and cosmetically fully restored in 1980.
In 1981 the problematic V-12 engine was replaced with Chrysler V8 engine mated to Chrysler Automatic transmission, at that time following SynLube™ Lube‑4‑Life® products were installed:
"The Original Syn!™" Motor Oil Motor Oil SAE 5W-50

used in the Chrysler V-8 engine

MicroGlass™ Oil Filter (Fwm)
TriMag™ Oil Filter Magnet (2 units)
Automatic Transmission Fluid (ATF)
Gear Oil SAE 70W-90 (RE)

used in the Rear Differential
In 1992 following products were also installed:
Cool-4-Life™ Synthetic Coolant
Stop-4-Life™ DOT 5.1 Long Life Brake Fluid
MAINTENANCE
Oil filter has been changed every year.
Motor Oil has been changed only once in 2001 at about 60,000 engine miles on SynLube Motor Oil.
The ATF was changed at about 50,000 and again 100,000 transmission miles on the SynLube ATF.
Additional Information
The "The Original Syn!™" Motor Oil was replaced after 20 years with "Lube‑4‑Life®" version of SynLube™ Motor Oil
The car was sold 11/14/2011 @ about 132,000 miles on the Chrysler powertrain.
The owner could no longer safely drive due to medical condition, and his wife sold the car when he was hospitalized.
Current whereabouts of the car are not known.
---
HOME | Motor Oil | ATF | Gear Oil | PSF | Grease | Coolant | Oil Filters | Magnets | Brake Fluid | Gauges | Tools | Specials | Sale Items