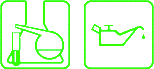 SynLube™ Lube-4-Life®    1-800-SYN-LUBE
" 100% Synthetic Super Lubricants, since 1969 "
Save your Vehicle with SynLube
[ Home ]   [ Contact Us ]   [ How to Order ]   [ PRICE LIST ]   [ Web Map ]   [ LINKS ]
[ Products ] [ Motor Oil ] [ ATF ] [ Gear Oil ] [ PSF ] [ Grease ] [ Coolant ] [ Oil Filters ] [ Magnets ] [ Brake Fluid ]
Company [ History ] [ Associations ] [ Mission ] [ News ] [ Press Releases ]
Product [ Guarantee ] [ Oil Comparison ] [ SynLube Uses ] [ No Oil Change ] [ Long Term Tests ] [ Warranty ]
---
SynLube™ Lube-4-Life®
SAVES your car --
-- or whatever vehicle --

-- you own or operate.
---
Here is how & why:
Eliminates Stiction (Static Friction)

Colloidal particles prevent bearing surfaces from sticking to each other
This eliminates start-up wear and provides for easy starting even in extremely low ambient temperatures

Reduces Friction (Dynamic Friction)

This makes engines run quieter, smoother and with more generated peak power, or alternately reduces fuel consumption.
Under steady load conditions less friction heat is generated, so engines, transmissions and differentials run much cooler and last longer

Seals Better (Dynamic Viscosity)

The "Sol" structure (Solid Colloids in Fluid) and UHVI (Ultra High Viscosity Index) provide at operating temperatures much thicker and stronger lube film than conventional oil (both Petroleum and Synthetic)

This in turn provides better sealing so minor oil seepage is usually stopped or reduced
There is also better sealing between piston rings and cylinder bore, this in turn reduces blow-by, increases power through higher effective compression, and reduces emissions

Eliminates Corrosion (Chemically)

The chemically inert base fluids and the Colloidal particles are chemically inert and stable in operating conditions from -50°F to +525°F. (-45°C to +275°C)
Exclusive anti-oxidants and dispersant which are present in the "Sol" are designed to adsorb free oxygen and water molecules

so that they are not available as precursors for other chemical reactions.

Conventional oil (both Petroleum and Synthetic) becomes in long term service acidic

this in turn causes corrosion of metal surfaces

Cools Better (Heat Capacity)

Any heat generated in bearing surfaces is conducted away better and faster

this eliminates seizure or bearing damage even in extremely stressed machines operated under high loads in hot climates.

Burns Cleaner (Ash Free)

Once ignited in combustion process it generates emission levels up to 50% cleaner than Conventional oil (both Petroleum and Synthetic)
No carbon deposits are formed on Valves, Pistons or in the combustion chamber.
---
To understand how all of above is possible, please read our SynLube MAGIC web page !
---
---
All SynLube™ Products are proudly "Made in USA "

[ Home ]   [ Motor Oil ] [ ATF ] [ Gear Oil ] [ PSF ] [ Grease ] [ Coolant ] [ Oil Filters ] [ Magnets ] [ Brake Fluid ] [ Gauges ] [ Tools ] [ Specials ] [ Sale Items ]
Send mail to synlube@synlube.com with questions or comments about this web site.
Copyright © 1996-2012 SynLube Incorporated
Last modified: September 30, 2012
Lube-4-Life®   is a Registered Trademark of   SynLube Incorporated
---







This web page was successfully Validated as: "XHTML 1.0 Transitional with CSS" and tested in all above browsers
---